(The largest year-round grassroots basketball development programs run by an NGO)
Hi5 Youth Foundation [Hi 5] runs a FREE multi-year, multi-level basketball excellence program for tribal/urban slum area children called "Hope thru Hoops". With an aim to provide children from marginalized sections an opportunity to strive for excellence and develop character, confidence & courage. In short, be a game changer for the sport; life changer for the children. It's a multi-year rigorous training program, where each year children graduate from one level and enter into another level of skilling - very similar to a school system. Hi5 builds basketball courts at any tribal/slum area center with an aim to run our flagship program for next 10-15 years in a location and provide children/community an alternate pathway to succeed in life through sports.
Children in our program are provided with jersey, shorts, a pair of shoes and socks as a part of their sports kit for regular training
' Hope Thru Hoops ' - Program at a glance
Scale
Excellence
Recognition

★ 4000+ children, 32 centers

(17 municipal schools, 9 Tribal Residential Schools & 9 Residential schools) with

50+ coaches.

★ 90% of our children have

experienced winning moments

(60 top three finishes in Basketball tournaments in 2019-20)
★ Hi 5 children's stories (i.e. 6 stories) were published in

NBA

India's Coffee Table Book -

Home Court - Inside India's Unique basketball Communities

★ Program runs for

300+ days a year, 1 hour per day, 6 days a week

★ 100% of our children continue

their education

(National 10th pass average rate is 82%)
★ Recognised by Apollo Tyres as

'Go The Distance Heroes'

in Jan 2020 on Star Sports 1 Channel
★ Operational in 8 Indian states

– Maharashtra, West Bengal, Telangana, Gujarat, Madhya Pradesh, Arunachal Pradesh, Andhra Pradesh, Tamil Nadu.

★ Hi 5 strives for

50:50

participation, aims to provide equal opportunities for both; girls and boys. We aim to enable them to train together, play alongside and experience success as a team
★

7 Hi5 children were selected to be a part of Corvuss American Academy

(International school for student athletes)in Maharashtra on the basis of their Basketball performance, These selected children get to complete their middle & high school education through the same institute.
Note: Hi5 flagship program runs from July to June every year in sync with the academic calendar system of India.
Additional Program Elements
After 5 years we are at 1600 children in Mumbai and 2100 children overall including Hyderabad and Kolkata making it one of the "largest grassroot basketball program for the underprivileged completely FREE".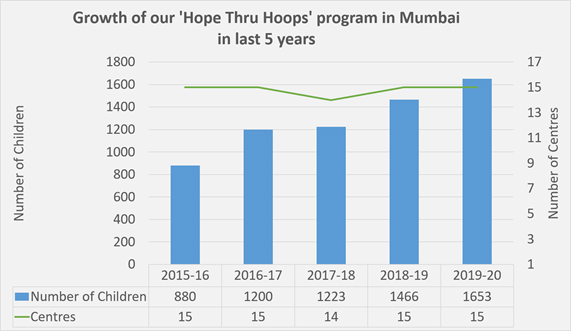 Hoop it Up: Hi5's annual event/tournament is called 'Hoop it Up', organised every year for all children in 'Hope Thru Hoops' program, training across different centers, under different categories (U12, U14, U16 and U18) to showcase their basketball skills. Each year, it is organised during the Jan-March period, spreadover 3-4 weekends with about 75+ teams participating. Some of key features of this event are:
Tournaments are organised professionally with records of each basket made to boost competitiveness spirit

Children are provided with transportation, energy bars, snacks and drinking water supply throughout the day

Guests, supporters and donors visits during the day to encourage children and also facilitate winning teams
Summer Slam: Hi5 every year runs a summer residential camp program called SummerSlam under Hope Thru Hoops umbrella. This is an essential part of the flagship program during the summer vacation/break, where children (both boys & girls) are given the opportunity to get trained by our coaches for long hours each day (full day training for 10 days) at a residential set-up near Mumbai. Children during this course are divided into batches so as to keep the training momentum organized and also schedule life skills delivery during the relaxed period of the day. Some of key features of this program are:
Free Transportation, lodging & meals are provided to children during the course

Training is conducted on a standard basketball court with floodlights made by Hi5, to have practice matches between different batches by night (end of the day)

Training program also extends to watching basketball match videos in the AV room, attending spoken english classes, as well as separate sessions on understanding the rules of the game.
Testimonial
I had a great experience volunteering with this amazing organization for almost two years while I was living in India.
Roberto Gonzalez Feijoo
International Basketball Player from Spain

It has been truly inspiring to witness the growth in the confidence & life-skills of these kids over the years.
Vidyesh Khanolkar
International Donor from United kindom

Hi5 Channels the power of sport to build confidence, passion & life-skills in deeply under-served communities.
Suhail Shaikh
from New York, U.S.A

A world class organization working tirelessly to ensure the kids grow as individuals and basketball players on & off the court.
Tyler Condit
International Volunteer from San Francisco, U.S.A

Public Stories : Times of India, Your Story, DNA India, The Hindu, DailyHunt, Business World, First Moms Club, The Better India, Tribal School Program, NBA - Fans of the Game, Hope Thru Hoops Program , Go the Distance Hero,